Overview
Our route crosses two of the River Forth's tributaries as we walk away from Edinburgh's Old Town: the Water of Leith and the River Almond. We use the Forth Road Bridge to reach the [Pictish] Kingdom of Fife, close to the ferry route used by Queen Margaret a thousand years ago.
Leaving North Queensferry - with its ruined chapel of St James, the patron saint of pilgrims - we head for Dunfermline, home to Queen Margaret and her husband King Malcolm Canmore. Over some low hills we visit Scotlandwell where King Robert the Bruce sought a cure for leprosy.

Ancient pilgrims headed east by Markinch and Kennoway. Modern pilgrims avoid traffic by taking to the Lomond Hills, coming down again behind Maspie Den's waterfall to picturesque Falkland with its royal palace and hunting grounds.
We cross the Howe of Fife and pass Kettlebridge, Balmalcolm, Burnturk, Craigrothie, and Ceres, entering the University Town of St Andrews by the beautiful Lade Braes Walk and through Ancient West Port to the Cathedral - opened officially in 1318 in the presence of Robert the Bruce to house Andrew's relics which were the focus of pilgrims' interest so many years ago.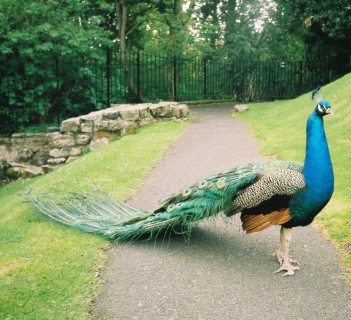 Following the Route
The Saint Andrew's Way book is currently out of print and unavailable to buy. The route is an unwaymarked trail. However, if you would like to walk the route and don't have a copy of the book you can find the GPS route for download on the Long Distance Walkers Association (LDWA) website. Purchasing the Ordnance Survey maps for the route would be great idea too! You will need Landranger series 58, 59, 65, and 66